The Area's top provider of quality Parking Garage Cleaning & Maintenance services.
Parking Garage Cleaning should be done in the Northeast at least once a year, and in high traffic garages twice a year, due to the salts and other contaminants that get into the garage surfaces. They eventually get absorbed into the concrete parking surfaces and soon will cause the rebar to rot out. When this happens the concrete begins to leak, crack and in the worst-case scenario, the garage itself can be condemned.
We use state-of-the-art hot and cold water power washing machines ranging up to 4000 PSI with up to 200+ degree water, surface machines, and any cleaning solutions needed for all parking garage cleaning.
Our knowledgeable staff is experienced in how to lighten or when possible remove stains completely. Each Parking Garage cleaning is approached based upon the existing conditions, and we will use the correct products and methods specific to your facility's cleaning and maintenance requirements.
Our Routine Maintenance Program
The ideal way to keep your Parking Garage or parking lot facility clean, safe, and inviting all year round! Forget the hassle of tracking down a cleaning company and fielding multiple bids. With a Routine Maintenance Program from Clean County Powerwashng, we simply show up at the pre-scheduled date and time and get the job done right the first time and every time!
University/Hospital/Municipality and Commercial Parking Garage Cleaning
Universities, hospitals, municipalities, and commercial businesses are built around service. Whether the audience is students, patients, or clients, it's vital to provide them with a safe, welcoming introduction. Clean County Powerwashing helps institutions in the tri-state area and beyond meet these needs...starting with the parking garage!
Concrete Cleaning Solutions
When you have a high-traffic property, it's going to show. Constant foot traffic, vehicles, and the like make an impact, and the result kills a professional image and shortens the lifetime of your concrete.
Convenient Service…Powerful Results
Clean County Powerwashing specializes in working with universities, hospitals, municipalities, and commercial businesses because we know that you don't need " just another pressure cleaning service." You need solutions that don't interrupt your patrons and employees, and you need service that gets the job done efficiently. You need a team that can put the safety and curb appeal of your property first. You also need to create a welcoming environment for all of your visitors.
At Clean County Powerwashing, we provide parking garage cleaning solutions that meet all of your needs. We improve the way that you introduce your patrons to your property – and it all starts at the parking garage!
No Job Too Big or Too Small - We Clean It All!
From Parking Garages to Vinyl Sided Homes, Restaurants to Condominium Complexes, Clean County Powerwashing can clean just about anything! We specialize in delivering timely, sparkling clean, environmentally conscious results that you can count on. It's the Clean County Way!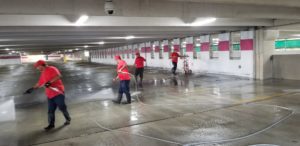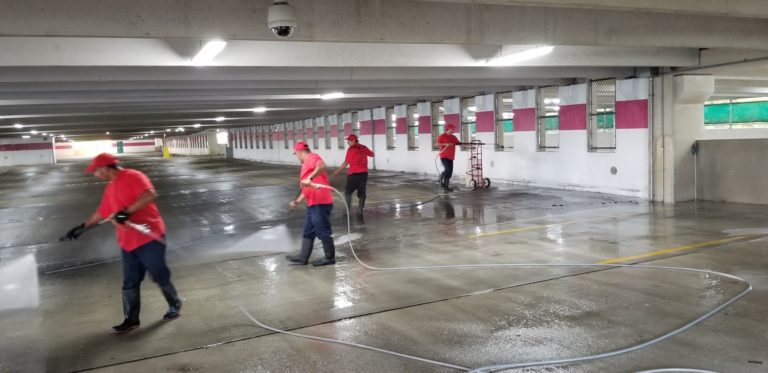 Why do you need a parking garage cleaning when no one sees it? Vehicles come and go, and the people driving them rarely stop to look at the inside of the parking garage, so why does it matter? As it turns out, cleaning your parking garage does more than just freshen up the place; it…
Read More